Choosing the perfect Kerrville campground to park your rig at can be time-consuming and stressful. Which RV site type should you choose? Does location matter? What are the benefits of choosing an RV park near Kerrville, TX compared to elsewhere? We're here to help you answer these questions and provide you with 5 reasons why Jellystone Park™ Guadalupe River is the best choice for RV camping in Kerrville, TX!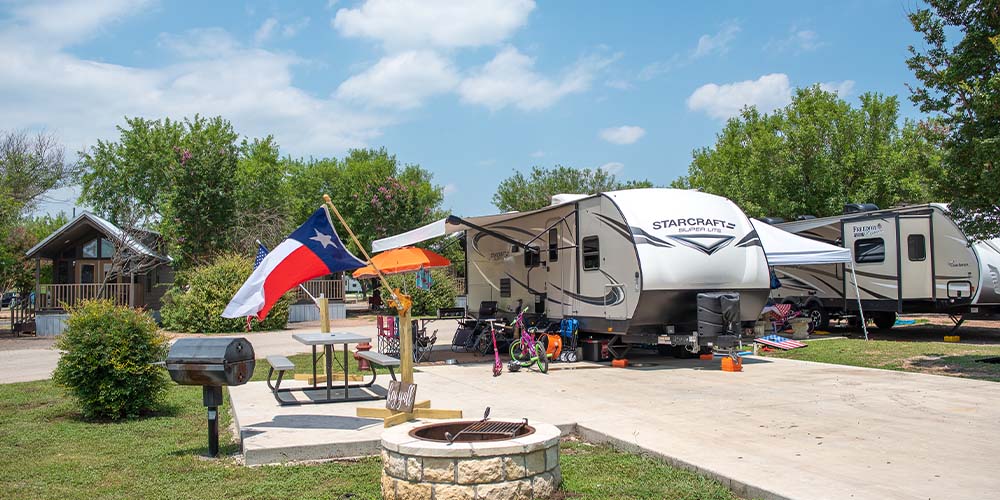 6 RV SITE TYPES TO CHOOSE FROM
There's no need to worry about not having enough options to choose from, as we have 6 different RV site types that will cater to your needs! Whether you're looking for gravel or concrete pads, RV sites closer to our attractions or closer to the river, or even sites with pull-through or back-in options, our Kerrville RV resort has a site for everyone.
Red Carpet RV Sites:
Enjoy the luxury of a concrete pad when you book one of our Red Carpet RV Sites! Choose from sites along the riverfront or closer to the fun with access to full hook-ups with cable, a fire pit, picnic table, and charcoal grill.
Best Premium RV Sites:
Set up a home base in one of our Best Premium RV Sites located near the Pub and Rec Hall. These sites have asphalt padding with access to full hook-ups with cable, a fire pit, and picnic table.
Preferred Premium RV Sites:
Our Preferred Premium RV Sites are a great option for RV campers who are looking to enjoy full hook-ups but with a gravel pad. These sites also include full hook-ups like electricity, sewer, water, and cable as well as a fire ring, and picnic table.
Premium RV Sites:
Looking for essentials? Claim a Premium RV Site and enjoy a convenient camping experience! Premium Sites include electric, sewer, water, and cable hook-ups along with a fire ring and picnic table. Plus, these sites have both back-in and pull-thru options.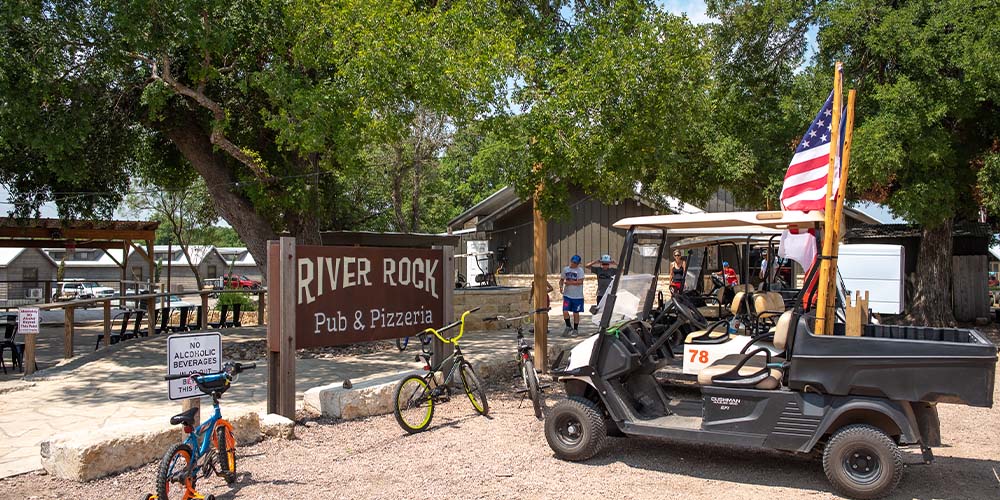 SPACIOUS SITES = ROOM TO ROAM
Located along the beautiful waters of the Guadalupe River in the Texas Hill Country, our Kerrville campground is sure to be a family favorite. Experience gorgeous river views everywhere you look in a fun and relaxing setting in Kerrville, TX. Plus, our RV sites are located all throughout our Camp-Resort, so you can find the perfect location for you and your family! Check them out on our Camp-Resort map.
Near The Attractions
If you're looking to book an RV Site that's near the water playground, water slides, splash pad, pools, jumping pillow, mini golf course, and all of our other attractions, we recommend booking a Red Carpet RV Site or Best Premium RV Site. This way, you can make the most of your stay by taking advantage of all the attractions that are near your site!
Along the River
Enjoy RV Camping along the beautiful Guadalupe River when you book a Red Carpet Riverfront RV Site! By choosing this campsite, you'll be able to enjoy morning coffee with an amazing view of the river. Plus, you will also be close to other attractions such as the playground, amphitheater, gaga ball, and more!
Near Rec Hall and Pub & Pizzeria
Parking your rig close to our rec hall and pub & pizzeria will give you easy access to all the activities we have planned during your stay, and delicious food! Book a Preferred Premium RV Site, Red Carpet RV Site, Premium Pull-Thru RV Site, or Premium Back-In RV Site to enjoy the perks of this location!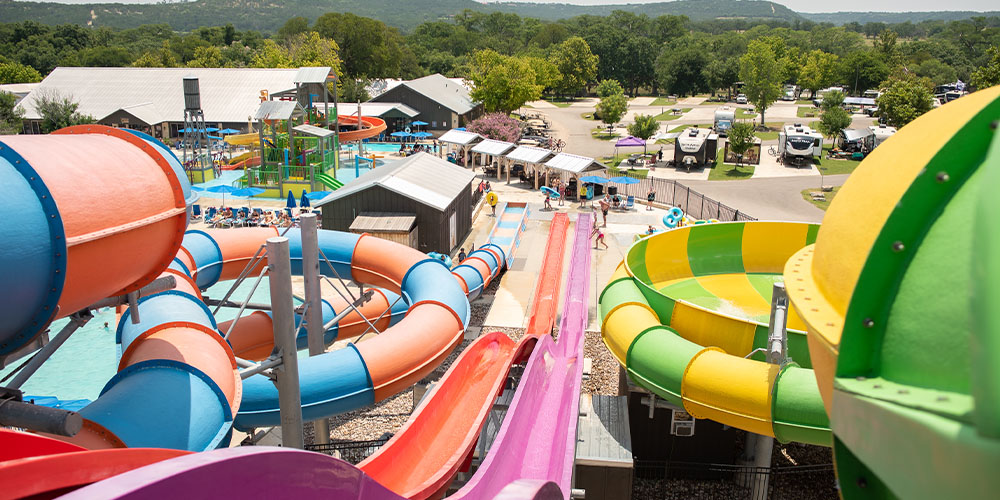 15+ ATTRACTIONS INCLUDED WHEN RV CAMPING
We have so many attractions, you may not have time to do them all during your stay! Plus, over 15 of our attractions are included with your RV rental! These include our main attractions like the water playground, swimming pools, mini golf course, jumping pillows, playground, sports courts, nature trails, select arts & crafts, and so much more. Make sure to view all of our attractions to start planning your itinerary!
Although the majority of our attractions are included when RV camping, we do offer some attractions at an additional cost. These include laser tag, Gem Mining, the arcade, and select arts & crafts. Looking for the best way to take advantage of all the fun that we have to offer? Check out our Fun Passes! Available during peak season (May 26 – August 13), our Fun Pass gives you instant access to all sorts of added fun like our paid activities, tasty treats, bear visits, & more!
Whether you're looking to add one or all of these attractions to your stay, or just stick with the included attractions, your RV camping experience at Jellystone Park™ Guadalupe River is sure to be one you'll remember.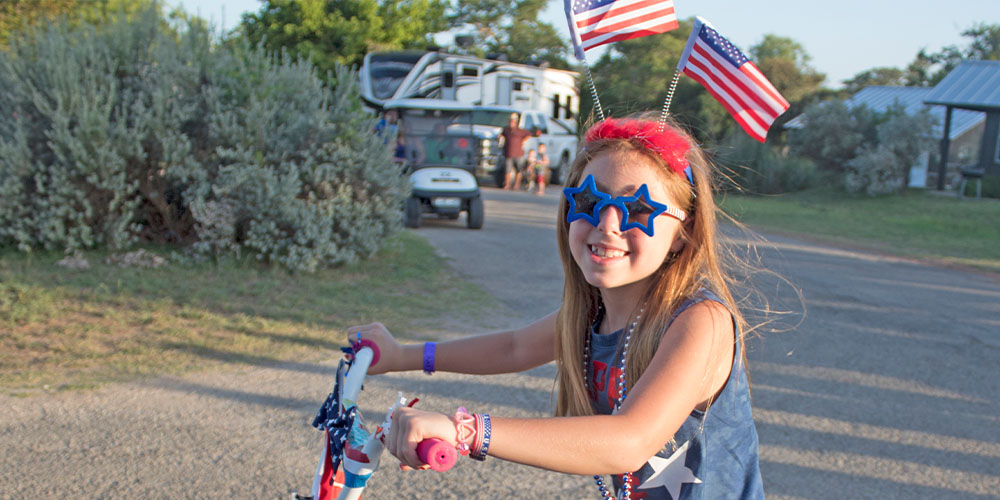 THEMED EVENTS ALL SEASON LONG
Looking for another reason to park your rig at our Camp-Resort? We have themed events and activities happening all season long! From January 1 - May 25 & August 14 - December 31, you can enjoy themed events during the weekends. During our peak season and holidays, themed events and activities are planned all week long, so the fun will never end during your stay! From America the Beautiful Week to Color the Park Weekends, you can expect themed activities from dawn to dusk.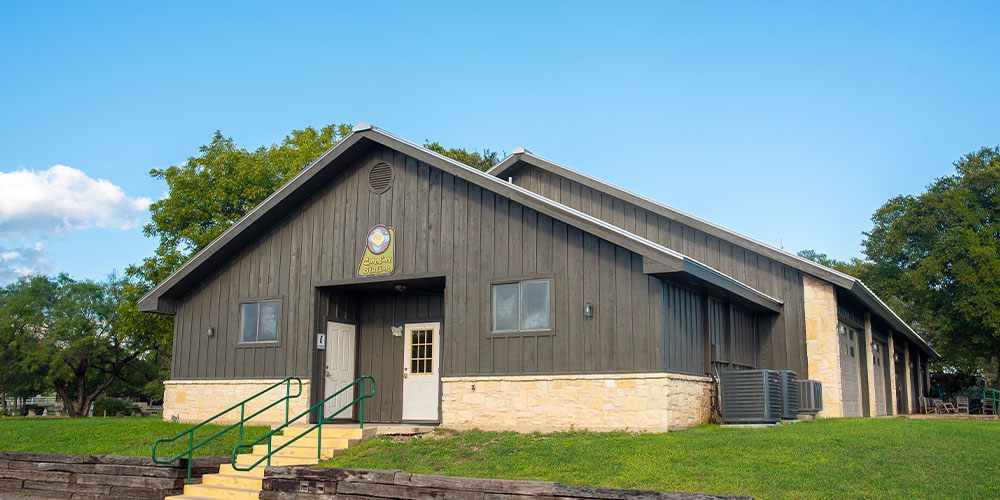 ON-SITE FACILITIES
We want to make your stay easier and more fun, so our Camp-Resort provides top-rated facilities that are available for all of our campers! If you need to grab some ice, charcoal, firewood, or forgot to bring supplies, our Ranger Station is here to provide anything you may need. The Cartoon Cafe and River Rock Pub & Pizzeria offer a variety of food options like hamburgers, brick oven pizza, and chicken tenders, so you don't need to meal prep every night. We also have the Bark Park where your furry friend can roam around in a fenced-in area. In addition, we have laundry services, trash pick-up, a fitness center, and more on-site facilities. No matter the need, we have a service to make your RV camping experience stress-free!


We hope these reasons provide you with a better understanding on why Jellystone Park™ Guadalupe River, TX is the best option for RV camping in Kerrville, TX. With so many different RV site type options, you're sure to find a site perfect for your taste. Plus, our Kerrville RV resort is located right along the Guadalupe River, giving you a prime view of the great outdoors. Lastly, our facilities, included attractions, and themed events make our Camp-Resort a stress-free, yet fun-filled option for your family RV camping trip. Make sure to book your RV site before your favorite location is gone - we can't wait to show you all that our Camp-Resort has to offer!